A once-in-a-lifetime project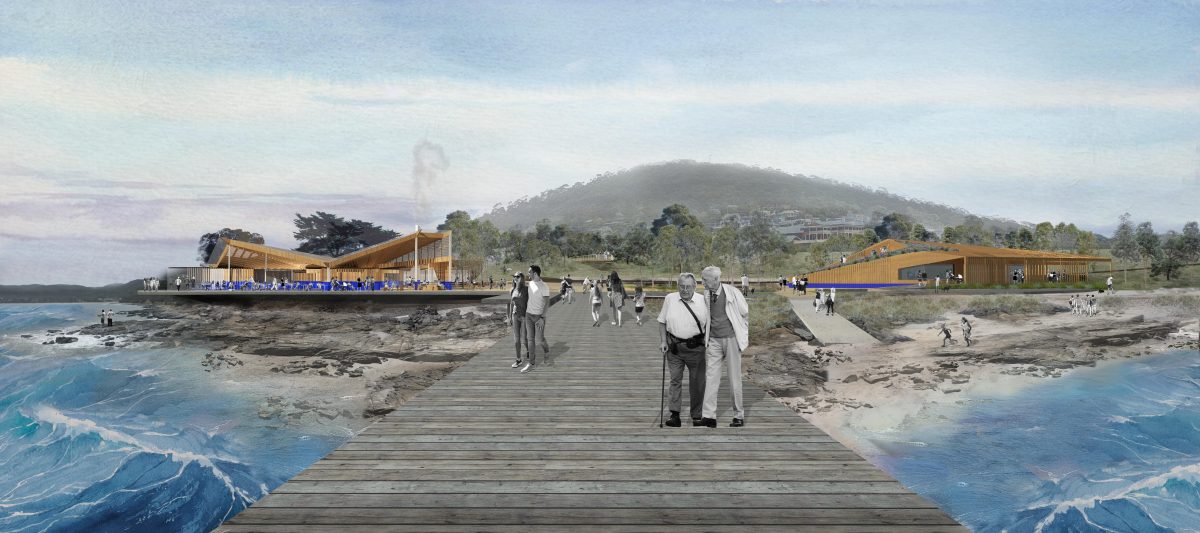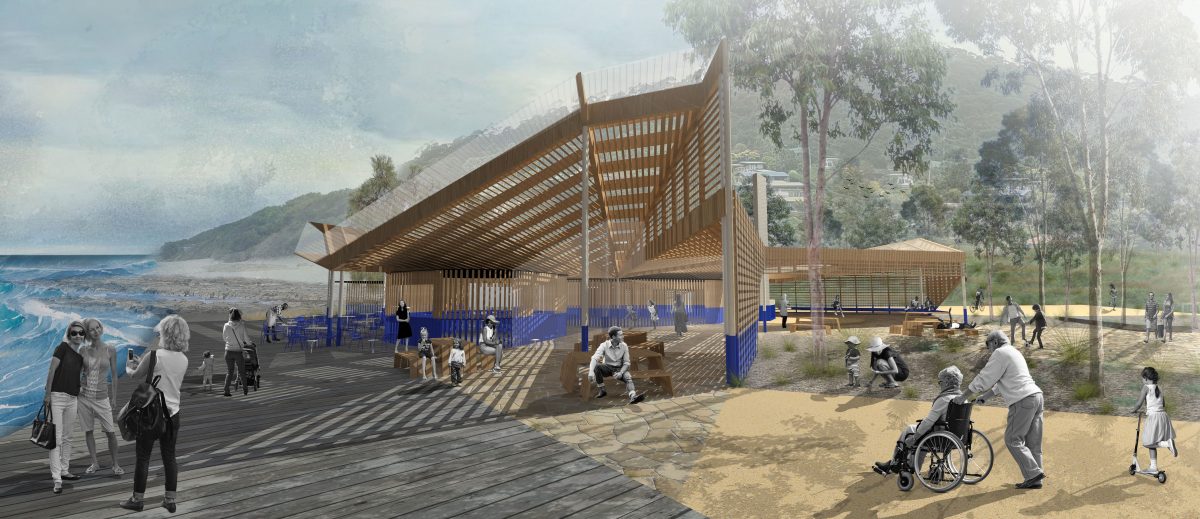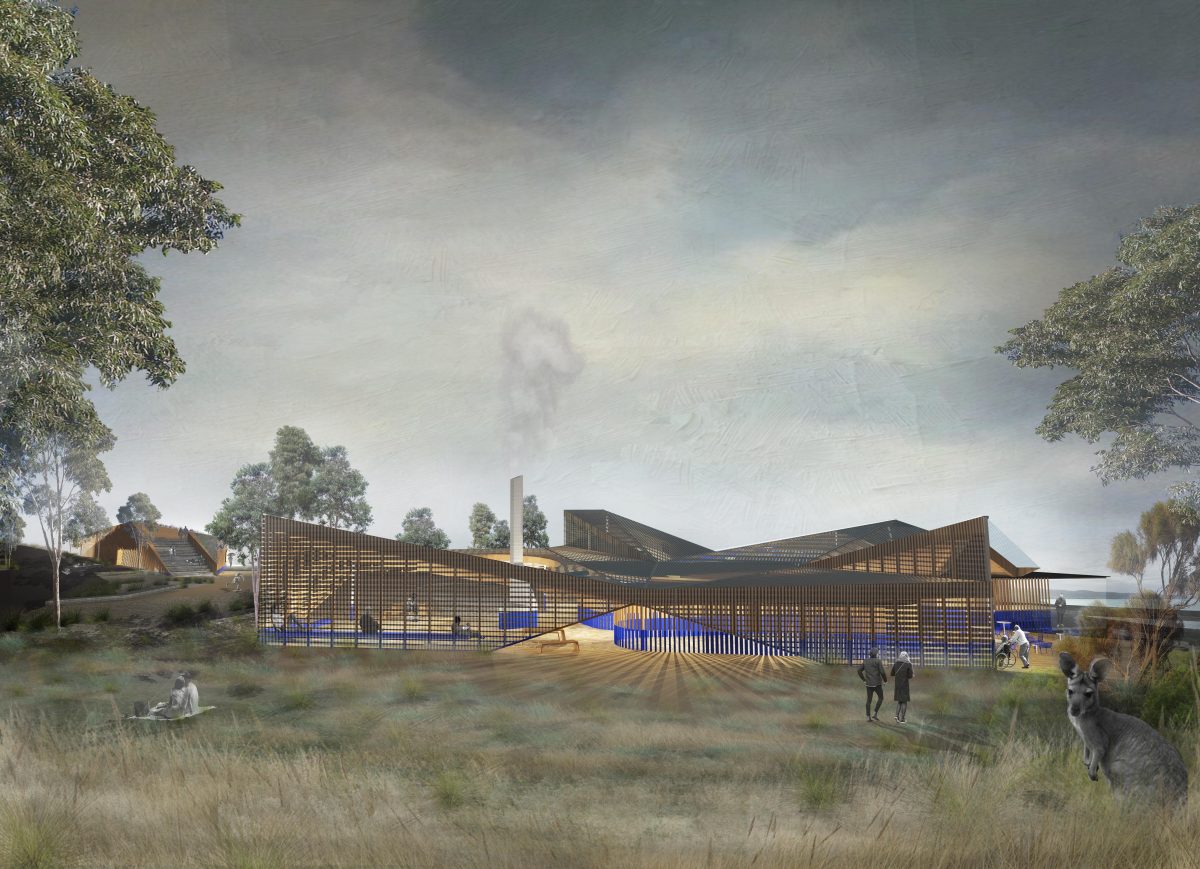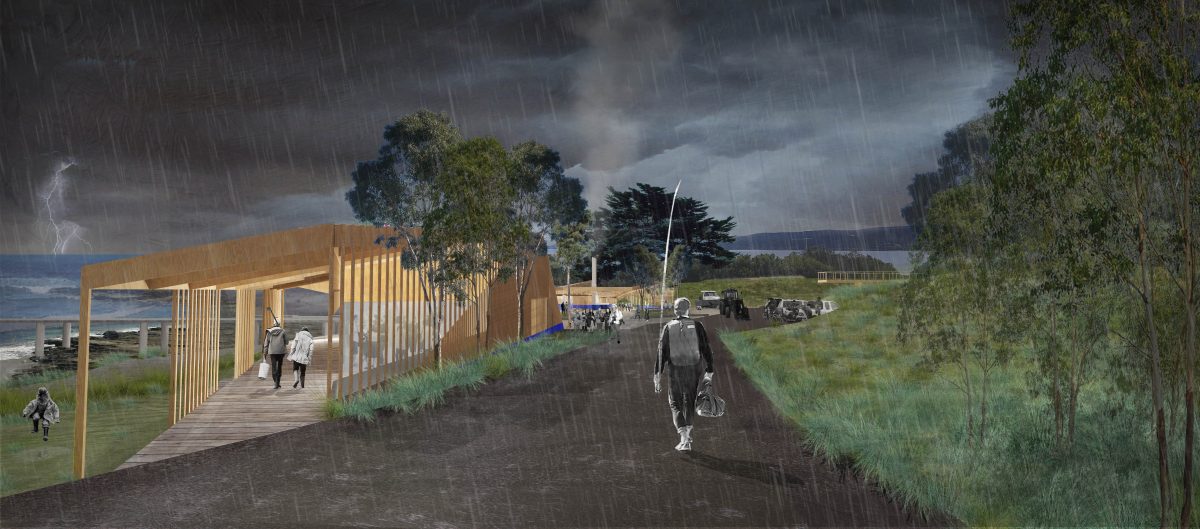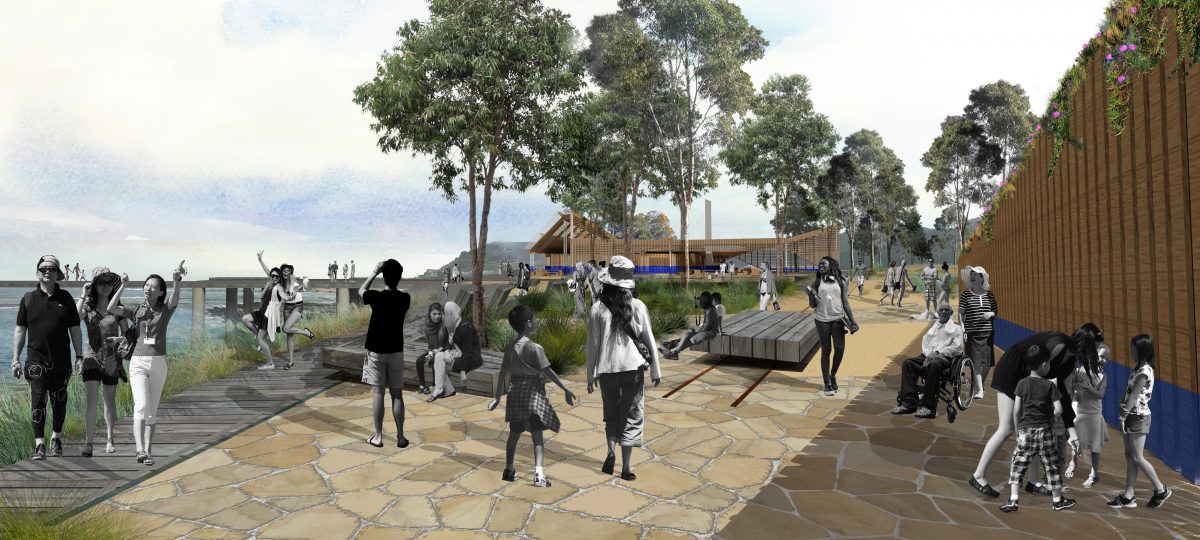 Point Grey – Lorne Redevelopment
A community supported master plan that provides a project delivering 30 construction and 14 hospitality jobs with a significant multiplier for service and supply jobs
Completed business case
A $7m project
$2m committed by the Great Ocean Road Coast Committee
Project priority of G21, Surf Coast Shire and Great Ocean Road Regional Tourism
The redevelopment will be ready to commence construction in 2019, subject to further funding.
Great Ocean Road Coast has worked closely with the Lorne and Surf Coast community to redevelop the Point Grey – Lorne Precinct.  Working in consultation with the community and key stakeholders saw the completion of the Point Grey Precinct Master Plan in 2015 followed by a Business Case that identified appropriate funding models. A Project Steering Group comprising key external stakeholders was convened in August 2017 and will continue to provide input at each stage of the redevelopment program.  Members include:
Great Ocean Road Coastal Management (GORCC); Ken Northwood (Chairman); Vanessa Schernickau (CEO)
Surf Coast Shire; Cr. Clive Goldsworthy; Ransce Salan (General Manager Environment & Development)
Lorne Aquatic and Angling Club (LAAC); Keith Miller (Commodore)
Committee for Lorne; Ian Stewart (President)
Lorne Business Tourism and Traders Association; Chris Tutungi (Secretary)
Friends of Queens Park; John Wilson (President)
Office of the Victorian Government Architect; Bronwen Hamilton (Manager Victorian Design Review Panel)
Great Ocean Road Regional Tourism; Liz Price (General Manager)
Department of Environment, Land, Water and Planning (DELWP). Greg Leece (Regional Director Planning)
An Architectural Design Expression of Interest (EOI) commenced in September 2017 to progress the Master Plan concepts into detailed design.  This will include formal design documentation and consent processes that will enable progress to construction tendering, subject to successful advocacy for funding across all tiers of government. The EOI attracted 39 responses and 4 were shortlisted to submit, through a formal and confidential tender process, as entrants to the Architectural Design Competition. To ensure a rigorous and well-governed process, probity advisors were appointed for the competition and an expert jury panel convened to assess the entries.  The five-person jury that assessed the submissions included the award winning Victorian architects John Wardle and Kristin Green, Richard Davies Great Ocean Road Coast Committee former CEO, Bronwen Hamilton Office of the Victorian Government Architect and Jocelyn Chiew Monash University.
The winning design
The winning design was by Searle x Waldron Architecture and Edwards Moore Projects (see Media Release MR Point Grey Design Competition Winner). There will be ongoing community consultation with the Lorne community  around the detail of the site plan.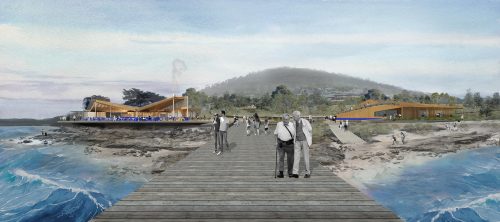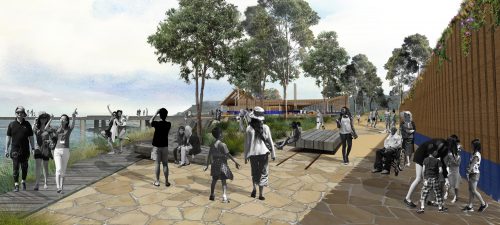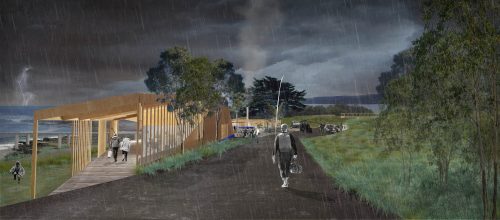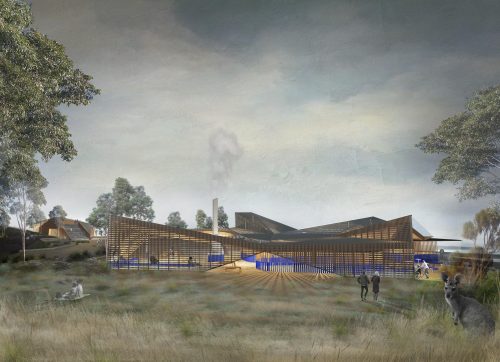 Searle x Waldron Architecture and Edwards Moore Projects describe their design as:
"A sculptural roof hovers over a gathering of small, program specific, structures. The internal amenity is defined by the undulating form of the roof which rises and falls to create pockets of intimacy within a larger shell. The interstitial spaces themselves create the interior agenda. A sense of enclosure and exposure varies throughout the internal spaces. Visitors remain connected to the elements visually or tangibly cognizant of the passage of time, season, tide.  The ground plane continues uninterrupted through the building.  A generous sheltered external courtyard at the building entry accommodates a large communal wood fired oven. Envisioned as a gathering space for families, community and visitors it is an offering of a warm hearth and smoking chimney as a beacon of welcome and inclusivity throughout the year.
Independent and self contained the Lorne Angling and Aquatic Club is located in a building designed to be both independent yet connected, adopting a common language of materiality.
The broader public realm of the precinct continues onto the amphitheatre steps, providing a unique vantage point over the main building and out to the horizon. This extension of the public space increases the diversity of opportunities for congregating. The social spaces and community rooms are designed to have maximum outlook and connectivity to the pier and ocean."
For further detail check out these concept boards:
Community Consultation
Continued community consultation is an integral part of the Point Grey – Lorne redevelopment. If you'd like to provide input for the next stage of the design process follow this link to complete a short survey: Point Grey – Lorne Redevelopment Design Consultation. Feedback is open until Sunday 19 August 2018.
We have gathered feedback from a number of groups and individuals who use the site.
Here is a display of the site and the ideas and concepts currently being discussed,
The Great Ocean Road Coast Committee is hosting a series of open houses and listening posts to gather input, discuss and test elements of the winning design.
Great Ocean Road Coast staff will be available for anyone to drop-in for a chat to find out more. Open houses are being held at the following times:
9am – 3pm, Saturday 14 July 2018 – Lorne Community House
9am – 12pm, Saturday 11 August 2018 – Lorne Community House
And a session in Melbourne:
4pm – 6pm, Wednesday 18 July 2018 – 8 Nicholson St, East Melbourne
The site plan below offers a sense of orientation for the site and highlights points of consideration where you might like to give feedback: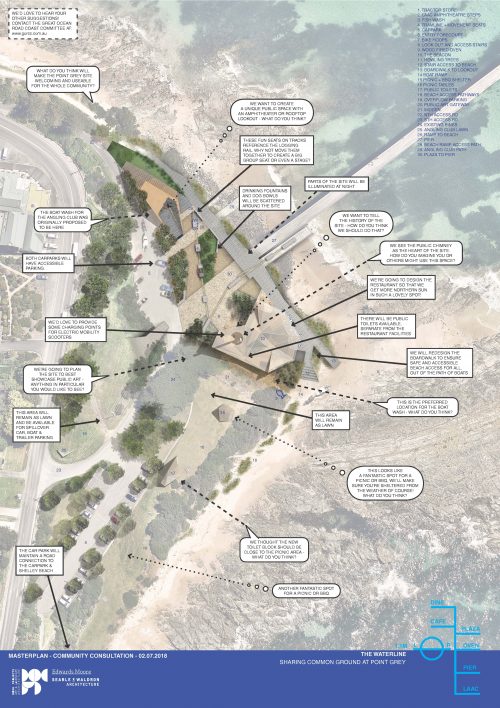 To get monthly updates on opportunities to contribute to this project as the designs are further developed sign up to the Great Ocean Road Coast mailing list.
This project will be further supported by the Great Ocean Road's proposed development of the adjacent Queens Park caravan park.
Q: How are you retaining the historic importance of the site? 
A: In addition to the winning architectural design, we have formed a Creative Counsel of local representatives to provide advice on future interpretive work at Point Grey and linking it back to Lorne Central.  Community connection to this site remains a critical element of the project.
Q: Is there still road access to Shelley Beach?
A: Yes, this will not change. Shelley Beach remains as it currently is.
Q: Current design plans don't show a boat access south of the precinct, is it there?
A: This access is being retained.
Q: Boat trailer parking has only four spaces, is this enough? 
A: There will be 10-12 provided in the overflow area during summer
Q: The contemplative area seems to have grasses in the lawn area?
A: The lawn will remain as it currently is.
Project Information
The Point Grey Precinct is situated on public land managed by Great Ocean Road Coast on the southern side of the Lorne township bounded by the Great Ocean Road on one side and the ocean on the other.
The Precinct is connected to the centre of Lorne by a walking track along the foreshore and is the starting point for the annual Lorne Pier to Pub swimming event.
The area is reserved for Protection of the Coastline and Public Purposes (#1983 – 3705) under the Crown Land (Reserves) Act 1978 and is located within Public Park and Recreation Zone under the Surf Coast Planning Scheme.
The precinct currently comprises a mix of community, recreational and commercial activities, including the pier, restaurant, Aquatic Club, boat launching, recreational and competition fishing, barbeque and recreation area, car parking, public toilets and open space.
The precinct boasts a range of economic, environmental, social and cultural values and opportunities. An integral part of the Lorne community, it is highly valued and used by locals, holiday makers and day visitors. It also contains significant Indigenous and non-Indigenous cultural heritage values.
Many of the current buildings on the site are ageing and there is scope for increased protection of the natural environment and cultural sites.
Media Releases
Project Documentation
Projects