Breeding Zones
The land managed by the Great Ocean Road Coast Committee along the Great Ocean Road in the Surf Coast of Victoria currently has 3 known breeding zones for hooded plovers:
BREEDING ZONE 1: POINT IMPOSSIBLE (NUDIST BEACH)
Trial Zone – Bird Sanctuary.  Dog must be on leash AT ALL TIMES. Horse riding must comply with permit conditions.
BREEDING ZONE 2: POINT ROADKNIGHT
No dogs allowed at any time.  $148 on the spot fines for any dog in this zone.
BREEDING ZONE 3: MOGGS CREEK
Keep your dog on a leash.
Be aware of where the breeding zones are and the dog regulations that apply on the Surf Coast.  Keep dogs completely out of 'no dog zones', and keep dogs on a leash in other hoodie breeding areas.  This will make a huge difference in minimising disturbance to hoodies in their hood.
Refer to the Surf Coast Shire Dog Regulations for information on where and when you can walk your dog and remember that Surf Coast Shire Enforcement Officer's are targeting these areas over peak season.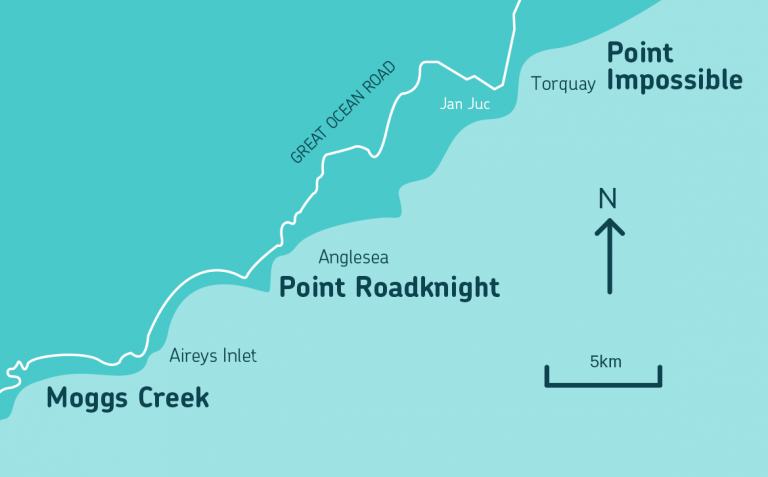 OTHER SURF COAST BREEDING/MANAGEMENT ZONES
Areas not managed by Great Ocean Road Coast Committee along the Surf Coast where hoodies breed include 'Guvvos Beach' (the ocean beach in between O'Donohue Road and Hut Gully) and Point Addis, which are both managed by Parks Victoria.  Great Ocean Road Coast's management area ends at Thompsons Creek (Pt Impossible) and hoodies breeding on the Breamlea side of the creek is managed by the City of Greater Geelong.