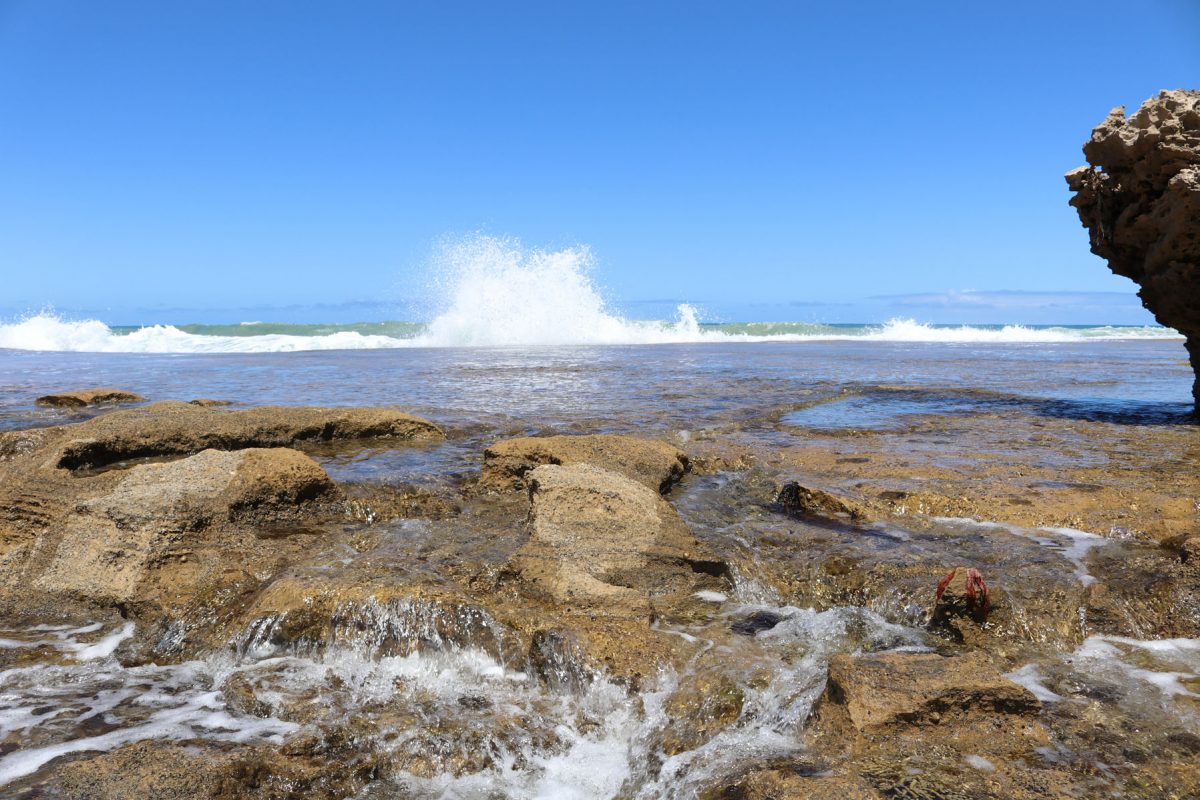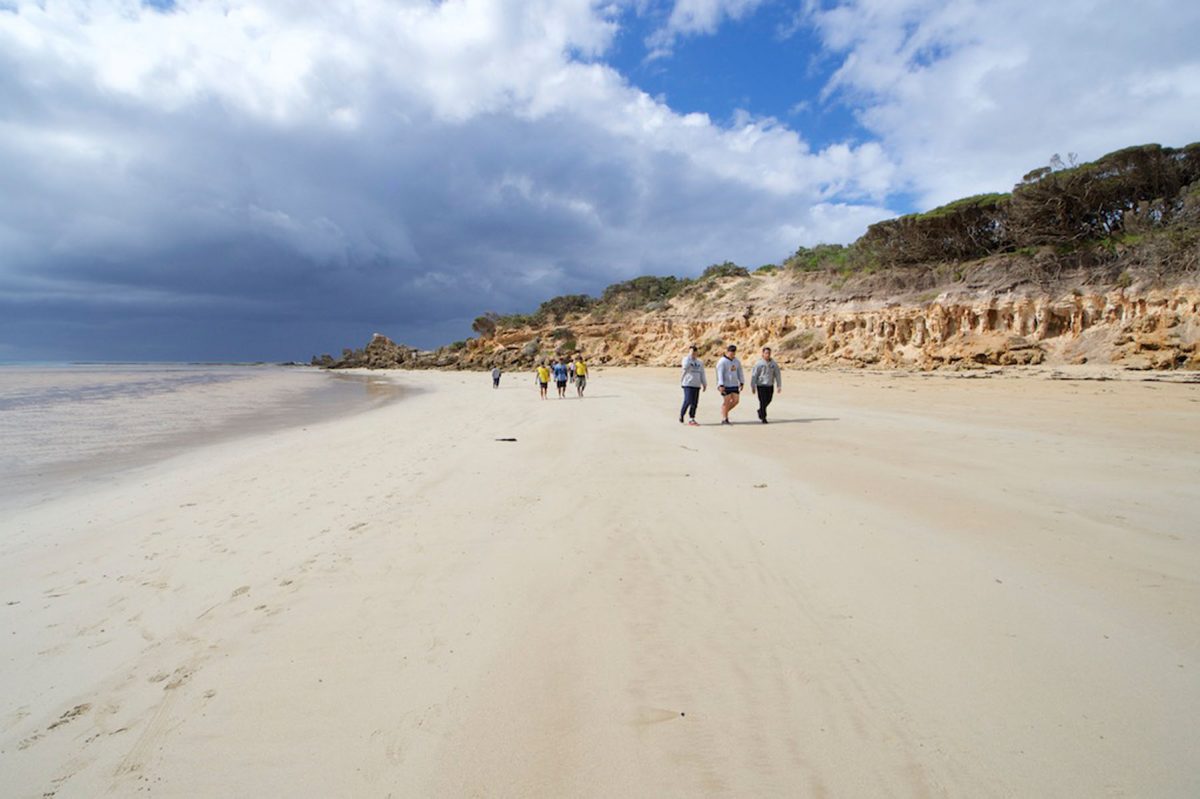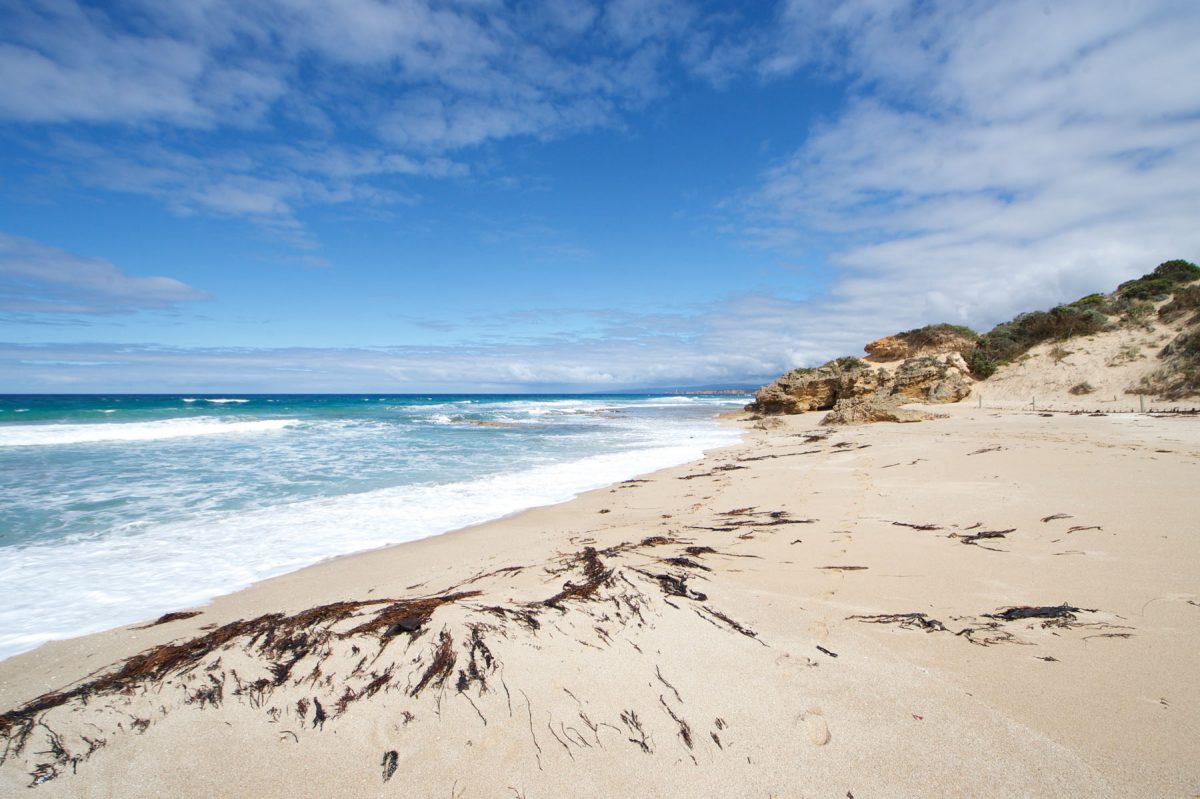 Point Roadknight
Point Roadknight is one of the safest beaches in Anglesea making it a popular destination for families with young children. Patrolled during peak times Point Roadknight is a great swimming and fishing location. The Anglesea Motor Yacht Club and main boat ramp are located next to the Point Roadknight beach, along with local café Bomboras.
The Surf Coast Walk links Point Roadknight with Anglesea via Soapy Rocks and offers fantastic coastline views over the Anglesea Surf Life Saving Club and the Point Roadknight point. Ongoing revegetation and conservation work by the Great Ocean Road Coast and environmental volunteers at the Point Roadknight dunes has restored much of the native vegetation and habitat to the area, making it the perfect place to relax and enjoy the outlook.
There is a beach access ramp for boat launching. A 4WD vehicle is strongly recommended at all times as the ramp is not suitable for launching under rough conditions. A fish cleaning station, along with a fishing line disposal bin are also installed to help protect our precious marine wildlife.
Point Roadknight is home to the threatened beach-nesting shorebird, the Hooded Plover. With one of the lowest survival rates from egg to adult of any species, this breeding zone is an important habitat for the 'Hoodies'.  Point Roadknight is strictly a 'no dogs allowed' beach to help protect the local birds.
Environmental volunteer groups in the region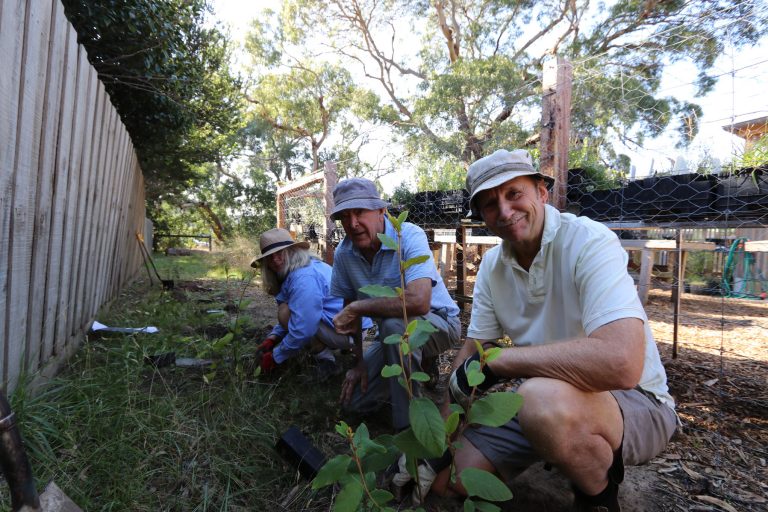 Anglesea, Aireys Inlet Society for the protection of Flora and Fauna
A prominent environmental group in Anglesea, ANGAIR is dedicated to protecting the indigenous flora and fauna of Anglesea and Aireys Inlet. The group has over 600 members and participate in a variety of activities designed to include members of all ages and abilities. From weeding to propagating plants, nature walks and more, ANGAIR has an environmental activity for everyone.
The group was established in 1968 and works on all crown land in the vicinity of Anglesea and Aireys Inlet.
The group has published several documents, including the Flowers of Anglesea and Aireys Inlet, Anglesea – A Natural History Study and more, all available on their website, www.angair.org.au.
ANGAIR has an extensive calendar filled with a variety of activities throughout the week and on weekends, including:
environmental care (weeding)
propagation of local native species
nature walks
bird walks
working with schools and university students on environmental care
maintaining and opening an extensive environmental library
environmental talks and presentations
assisting with research projects
microscope group
Full event calendar available at angair.org,au.
Plant propagation | every Tuesday and Thursday, 9.00am
Working bees | 3 Mondays a month, followed by morning tea. Meet at 9:30am at the ANGAIR Natural History Centre, McMillan St, Anglesea.
Contact |  Carl Rayner on 0439 558 600
View the blogs
Read the latest volunteer stories from ANGAIR on our blog.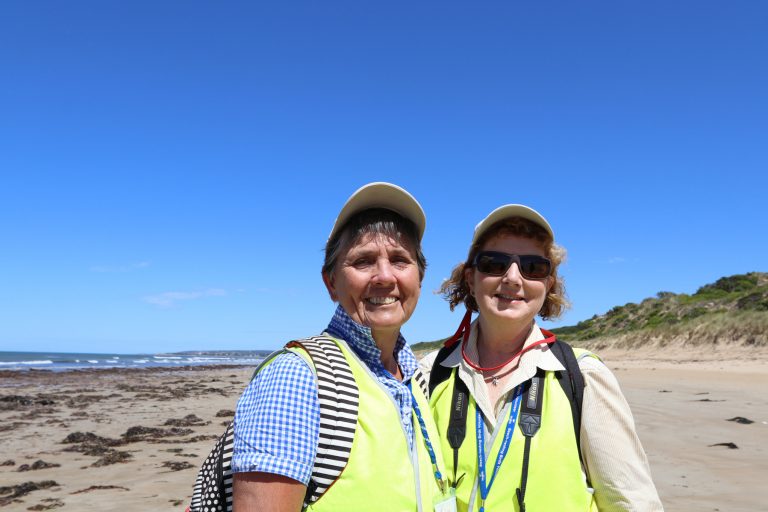 The Friends of the Hooded Plover Surf Coast was formed in response to the growing local interest in the threatened beach-nesting shorebirds. With only three known breeding sites along the Great Ocean Road Coast managed land, Hooded Plovers require human assistance for survival.
Associated with BirdLife Australia, the Friends of the Hooded Plovers Surf Coast volunteers are required to undergo important training to ensure they work towards the implementation of protective management measures and relieve the many threats from humans and dogs.
The Hooded Plovers have one of the lowest survival rates from egg to adult of any species in the world. The group works with Birdlife Australia and land managers such as Great Ocean Road Coast.
Contact | www.birdlife.org.au or meghan.cullen@birdlife.org.au
Visit the Save the Hoodie website for more information.
Facilities and features
Public toilets; change facilities; amenities for people with a disability; parking for people with a disability; water fountains; lookout (Soapy Rocks); beach access boat ramp; picnic tables; walking tracks – Surf Coast Walk; no dogs allowed; hooded plover breeding zone; yacht club; Surf Life Saving Club; car parking; family friendly; kiosk